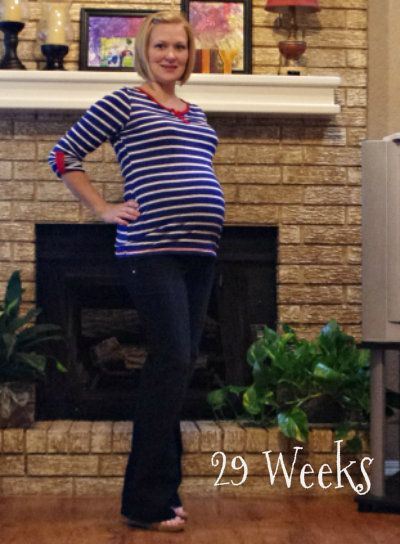 Baby's size?
Baby is the size of an acorn squash, measures a little over 15 inches head to toe and weighs 2 1/2 pounds.

Weight Gain?
At my appointment last week I found out that I've gained a total of 10 pounds so far. 5 of those pounds were gained in the last month. That's not so good but I figure if I gain 10 pounds in the next 2 months then I'll still be under the 30 pound weight gain I had with JJ. And I'm definitely okay with that!
Maternity clothes?
I've been able to wear a mix of both maternity and regular clothes. I've had to buy maternity tops lately because a lot of the regular tops just aren't long enough anymore.
Stretch marks?
Nope!
Belly Button in or out?
Mostly out but there's still a little bit that's still in.
Sleeping?
Even though I've got myself surrounded with 3 pillows, sleeping has not been easy. I wake up every morning with hip and lower back pain. And I get up once a night to use the bathroom. Fun.
Foods I am loving?
Sweets, of course. And the desire to bake has come back pretty strong. I've done a lot of baking lately. I'm also loving soup and salads (501 Cafe especially!).
Foods I'm hating?
Chicken Express is the only thing I can't stand the thought of.
Movement?
I feel movement daily and can see my stomach move and roll now. He's a very active little guy.
Best moment this week?
Andrew and Mom felt the baby move for the first time last week.
Symptoms?
Big belly, constantly hungry, breathless, and hip and lower back pain.
Gender?
Boy!
What I miss?
My Daddy. Every day. Oh. And sleep. And walking/standing without being in pain.
What I'm looking forward to?
Figuring out what this little guy's name is going to be, finishing the nursery, and buying all other necessary items. It's so fun shopping for this little one! I've also figured out how I want to do JJ's big boy room and am so excited to get started on that, too!
Milestones?
My glucose test was this past Thursday. I'm guessing I passed since I haven't heard anything yet.
Emotions?
The joy of pregnancy has been overshadowed by my grief of losing Dad but I am getting there. I'm starting to look forward more to meeting this little guy but at the same time I'm not ready to have 2 boys! And I know it will be here before I know it. Can't believe there's only 11 weeks left!