Life {Sweet}Life
is hosting a crock pot recipe party. How can I not participate? I adore my crock pot and any crock pot recipe that I can find. I've been using it about once a week but now that the colder months are here, I plan on using it more often! I can't decide on only one recipe to post so I'll just give several.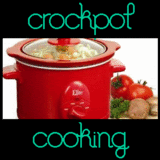 When I first heard about this linky party I immediately knew I was going to post my Chicken Taco Soup recipe. But someone beat me to the punch. Go over to
Details from the Decherios
to get that recipe. I
highly
recommend it. It's our all-time favorite crock pot recipe. In fact, I plan on making it tomorrow!
Salsa Chicken
6 boneless, skinless chicken breasts
1 teaspoon salt
1 tablespoon vegetable oil
1/2 cup thick and chunky salsa
1 can (15 oz) black beans, drained and rinsed
1 can (11 oz) whole kernel sweet corn
2 tablespoons fresh cilantro, chopped
Sprinkle chicken with salt. Heat oil over medium-high heat in a skillet. Cook chicken in oil about 4 minutes, turning once, until brown.
In a slow cooker, mix salsa, beans, and corn. Top with chicken.
Cover and cook on low for 7-9 hours or until juice of chicken is clear when the center of the the thickest part is cut.
Sprinkle chicken and vegetable mixture with cilantro.
Serve with sour cream, guacamole, extra salsa, etc.
**May also use mexicorn with red and green pepper to add color.
Pork Chops with Sauce
(This is another great one. The meat is so tender it literally falls off the bone!)
Brown 4-8 pork chops will and season lightly with salt and pepper. Place in a crock pot and cover with any ONE of the following sauces. Cover and cook on low 7-9 hours or high 4-5 hours.
Cream of Mushroom soup (the best sauce, in my opinion)
Sweet and Sour Sauce
Cream of Chicken soup
BBQ Sauce
Jambalaya
(When you're looking for something different, this is a great choice! It can also be made as spicy or non-spicy as you would like.)
1 pound skinless, boneless chicken breast halves, cut into 1 inch cubes
1 pound turkey sausage, sliced
1 (28 oz) can diced tomatoes, without juice
1 large onion, chopped
1 large green pepper, chopped
4 cloves garlic, sliced
1 cup chicken broth
2 teaspoons dried oregano
2 teaspoons dried parsley
2 teaspoons Cajun seasoning
1/2 teaspoon dried thyme
1 pound frozen cooked shrimp without tails
In a slow cooker, mix the chicken, sausage, tomatoes with juice, onion, green bell pepper, and broth. Season with oregano, parsley, Cajun seasoning, and thyme.
Cover and cook on low 7-8 hours or on high 3-4 hours. Stir in the shrimp during the last 30 minutes of cooking.
Honey Garlic Chicken
(This is great with rice and another one I've made often.)
4 boneless, skinless chicken breasts
3/4 cup honey
1/3 cup soy sauce
3 tablespoons ketchup
2 cloves garlic, crushed
1 tablespoon minced fresh ginger root (or 1/2 teaspoon dried ginger)
1 (20 oz) can pineapple tidbits, drained with juice reserved (may buy sliced pineapples and chop)
2 tablespoons cornstarch
1/4 cup water
Pour honey, soy sauce, ketchup, garlic, ginger, and reserved pineapple juice into the slow cooker. Mix well. top with chicken breasts.
Cover and cook 2 hours on high and 1 hour on low. Stir in pineapple and cook 15 more minutes.
Mix the cornstarch and water in a small bowl. Remove chicken from the slow cooker. Blend the cornstarch mixture into the remaining sauce in the slow cooker to thicken. Serve sauce over the chicken.
*I've found it easier to put the cornstarch mixture into a small sauce pan and thicken it on the stove before blending it into the slow cooker.
Cheesy Multigrain Spaghetti Casserole
2 1/2 cups water
1 (10.75 oz) can condensed cream of mushroom soup
1 (14.5 oz) can diced tomatoes, undrained
1 cup sliced celery
1 cup sliced carrots
1 cup chopped onion
2 cloves garlic, minced
1 1/2 teaspoons dried Italian seasoning
1/4 teaspoon salt
1/4 teaspoon black pepper
8 oz. dried multigrain spaghetti, broken
1/2 cup shredded cheddar cheese
In a slow cooker whisk together the water and soup. Stir in undrained tomatoes, celery, carrot, onion, garlic, Italian seasoning, salt, and pepper.
Cover and cook on low for 7-8 hours or high for 3 1/2-4 hours. Gently stir in dry spaghetti noodles 30 minutes before serving.
Sprinkle each serving with cheese.
Hopefully this helps your crock pot recipe collection. :) Enjoy!