A lot has happened since I last wrote a blog. I FINALLY have a laptop in the house so hopefully I can start posting regularly again. It's so hard to know where to start. My last post consisted of an update on Easter, Mother's Day, and Father's Day 2011. Instead of trying to catch up and write a post on every.single.thing. that has happened since then I think I'm going to just pick up where we currently are.
The biggest news/event of the moment is that I'M PREGNANT with baby #2!!! Due November 26th. On March 24th I took the test that confirmed my suspicions.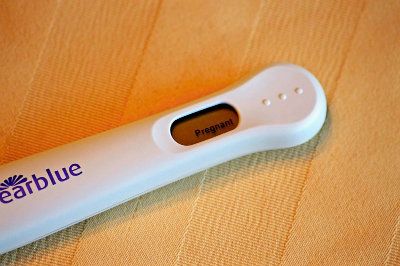 It was early Saturday morning before anyone else was awake. Everything I read said that if you have high temps for 18 days after ovulation then you are pregnant so I waited until day 18. I could have tested sooner but I kept putting it off because I was afraid I would end up disappointed. I, thankfully, was not disappointed that morning! The first feelings were unbelief and shock. That soon turned into happy tears of gratefulness. After preparing myself for possibly never having another baby I could not believe how fortunate I was that God was giving me what I had wished for for so long. After I spent a good 20 minutes running around the house crying (I tell ya, I was crazy!) I decided that I couldn't wait to tell Hubby about it so I went into the bedroom, woke him up and told that that I had to show him something (just like I did when I told him about being pregnant with JJ). He was still half asleep so it took him a few seconds to register what was going on. Needless to say he was very happy! We decided to tell our families and closest friends immediately but we wanted to wait awhile before telling JJ. We knew that once he found out about it that the rest of the world would know! One of the hardest things was keeping it from JJ. I asked Kelly, a good friend, to take a picture for us to give to our families to announce the pregnancy. I loved this idea and thought it was such a cute way to tell everyone our news!
It's amazing how difficult it is to find gender neutral baby shoes. We waited to tell JJ until I was 10 weeks along. For one, I felt comfortable letting everyone know and for another, my belly was growing and it was getting harder to hide! It's so true that your belly gets bigger faster after the 1st one. Anywho, I found a cute Big Brother t-shirt for JJ a couple weeks before this and put it on him the night we told him. I asked him if he knew what his shirt said and then I explained it to him. We told him that there is a baby in my tummy and that he is going to be a big brother. He had commented to me several times in the previous weeks that my tummy was getting fat (that was fun) and that maybe there was a baby in there so I don't think he was terribly surprised to find out that there was. He has since then talked about the baby daily and given my belly lots of hugs and kisses. I honestly cannot wait to see him be a big brother.
I am now 13 weeks and 5 days pregnant! The 2nd trimester got here so quickly! I admit that I haven't taken any baby belly pics yet and I know that I need to get better at that. As soon as I found out I was pregnant with JJ and had my first ultrasound (17 weeks 3 days) I took a baby belly pic and did it faithfully every week throughout the entire pregnancy. I've heard that it's easier not to keep up with it in pregnancies after the first but I'm determined to take one weekly. Starting
now
...soon!
Here is a picture from Mother's day. I was 11 weeks and 6 days pregnant. See? I told ya the belly made an early appearance this time. I don't even want to think about how big I'm going to get. Ack!
There's so much more to this story. My visits with Dr. Eli Reshef, fertility specialist (LOVE him!), Femara, and ultrasounds but maybe I'll get to that another time. I just know that I'm so very blessed to be carrying another sweet baby!